[Free Consultation] Are you spending money on advertising but not getting the results you want? Are you looking for more sales and leads but have no idea where or how to start? Get help from our world-class marketing experts in a free consultation call.
Click Here To Schedule Your Free Consultation Now
If you're a content writer or work in SEO, you're probably familiar with these four words: "Just write great content."
Forged by Google, it's now a go-to phrase for anyone who's trying to improve SERP rankings and create content that converts. At face value, this sounds like good advice: Write great content, rank better, get more traffic and make more money.
But in reality, it's really vague. What does "write great content" actually mean? Longer content? Shorter content? More keywords or fewer keywords? Should the content include related topics or should it focus on one topic?
If only there were a way for you to judge what Google thinks is great content.
You actually can figure out (more or less) what great content looks like in the all-seeing eyes of Google by analyzing the top results for the keyword or topic that you're targeting.
But with so much content out there, this can quickly become an overwhelming task if you're working on more than one piece of content a month. As with most things in digital marketing, you're going to need a tool in order to scale this process.
In this article, we're going to look at two popular tools, SurferSEO and Clearscope, as well as delve into a third tool, ClickFlow, to help you take your content creation to the next level.
What Is SurferSEO?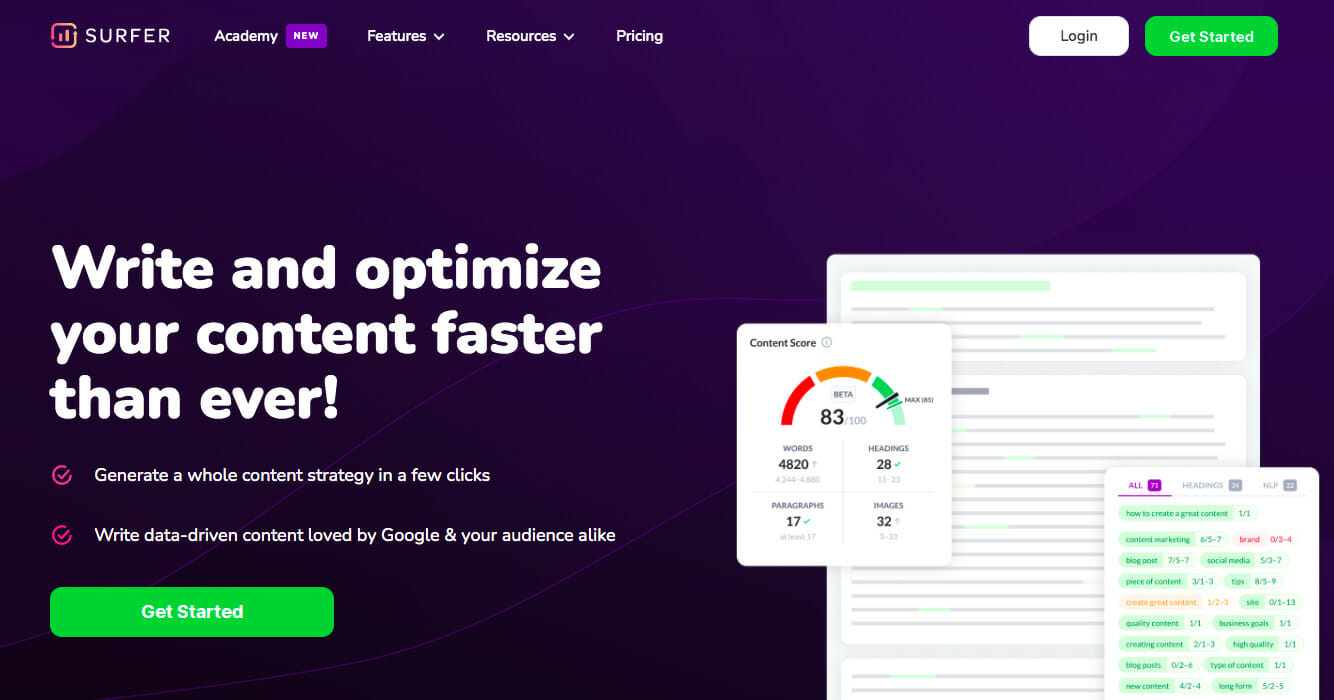 SurferSEO markets itself as both a SERP Analyzer and Content Editor. Its USP is that it analyzes over 500 data points based on the keyword you want to create content around and brings them into one interface so that you don't have to collect data manually.
SurferSEO helps you work out why the top-ranking pages are, well, ranking. This means that you can focus on the right data points for the niche you're in.
What Are the Features of SurferSEO?
SERP Analyzer
Upon launch, SurferSEO was simply a SERP Analyzer, although a number of other features have been added since.
As mentioned earlier, one of the biggest reasons people love this SERP Analyzer is that it gathers around 500 data points. You simply pop in your keyword and within minutes you have an analysis.
It looks at content-based ranking factors including (but not limited to):
Text length
Headings
Title tags
Meta descriptions
NLP entities and sentiment
In addition — and this is something that a lot of similar tools don't do — it examines more technical ranking factors. This includes (but again, is not limited to):
Page speed
Structured data
Hidden content
Content above the fold
Backlinks
This is where SurferSEO stands out. Because the SERP Analyzer is not only looking at the content data points of well-ranked sites, you can also spot when it's not the content that's holding you back (but more likely a technical issue).
So, not only does it help you write better content, but it alerts you when other problems are affecting performance.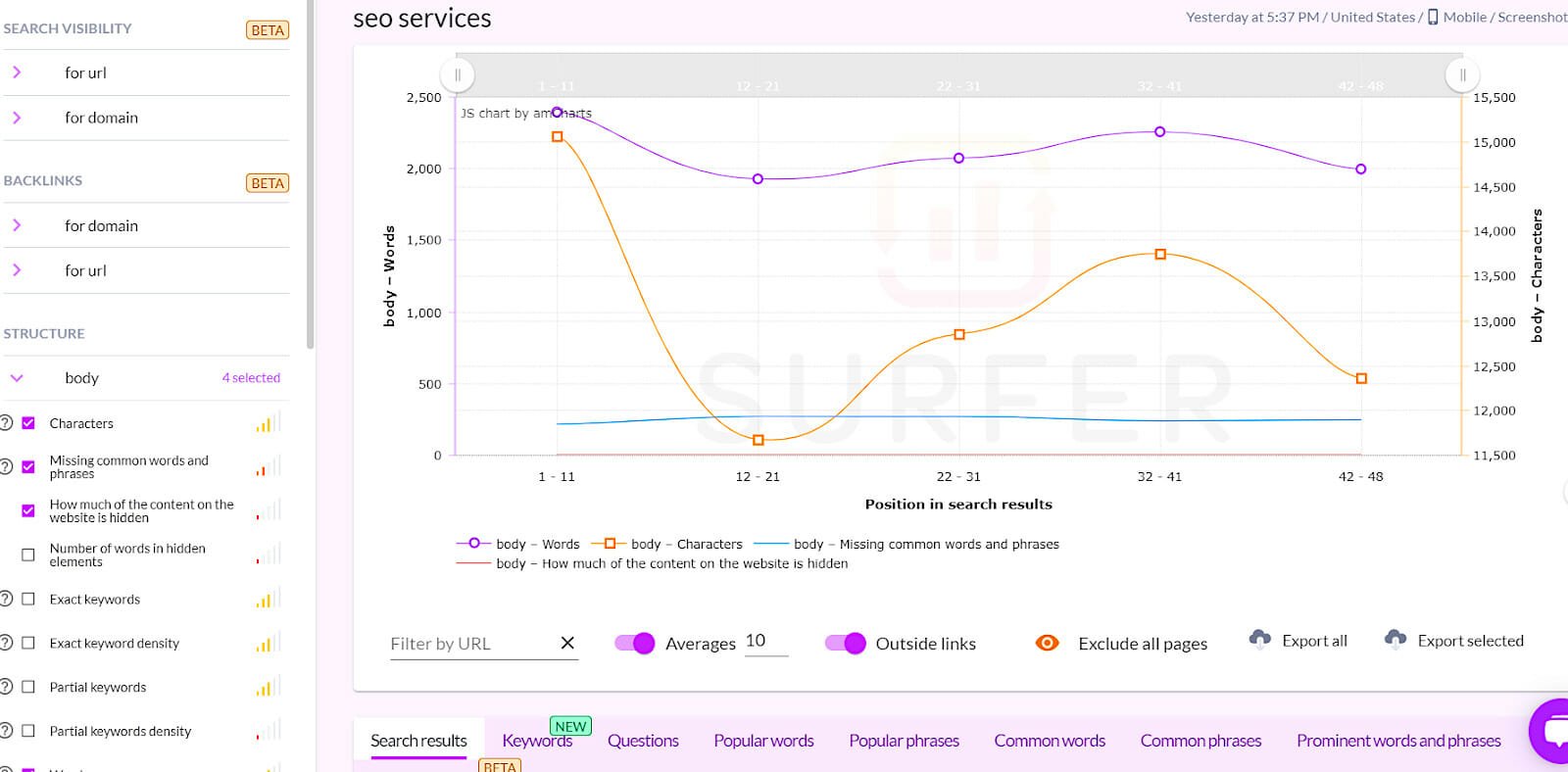 Content Editor
Content editors are usually the main selling point of these types of tools. So how does this one stand up?
Surfer uses AI to check how frequently the sites that rank well for your given keywords are using said keywords. You can then analyze these and decide which ones you want to include in your own text. This stops irrelevant keywords from showing up in the content editor.
You can then copy and paste your content into the editor, and Surfer will analyze your content for optimization. This isn't based on an out-of-date checklist, but rather on benchmarked data from sites that already rank well, i.e. your real online competitors.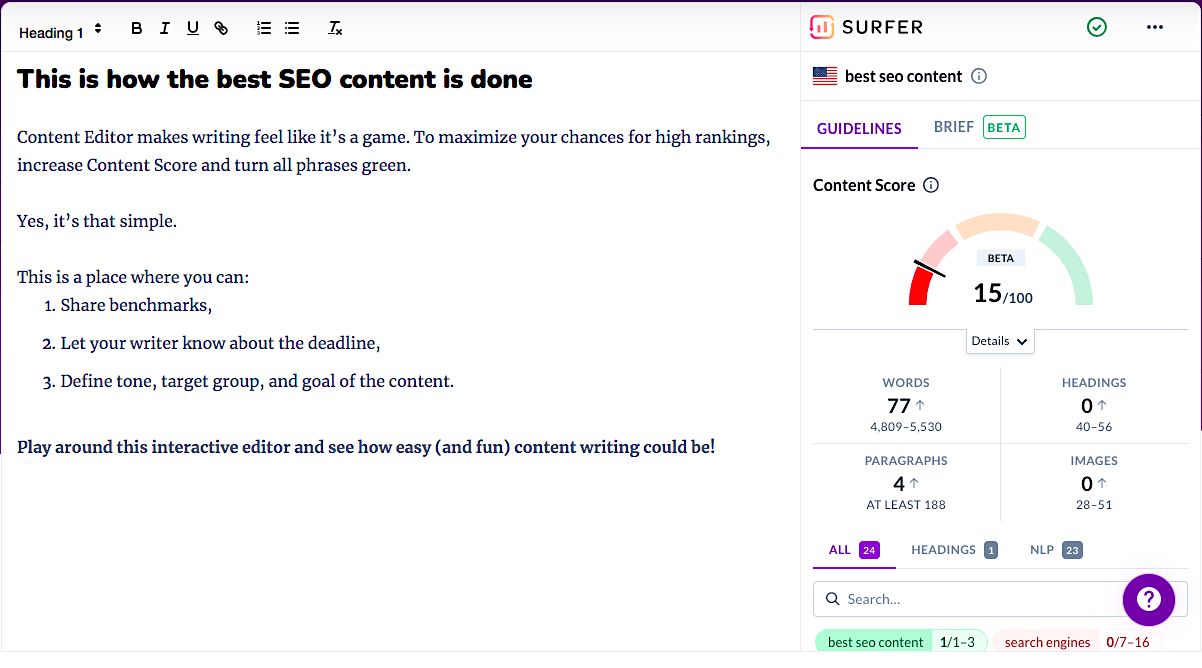 As you edit your text, you can see the content score change in real time, which is a genuinely satisfying feature.
Surfer's Content Editor stands up to some of the more expensive tools, and it offers a seamless experience. You can even collaborate with external writers in the tool, and it works directly in Google Docs and WordPress.
Chrome Extension
In addition, Surfer has a Chrome extension that displays data in the search results. This is incredibly helpful when you're at the research phase of creating content, since you can view and analyze data right in the SERPs.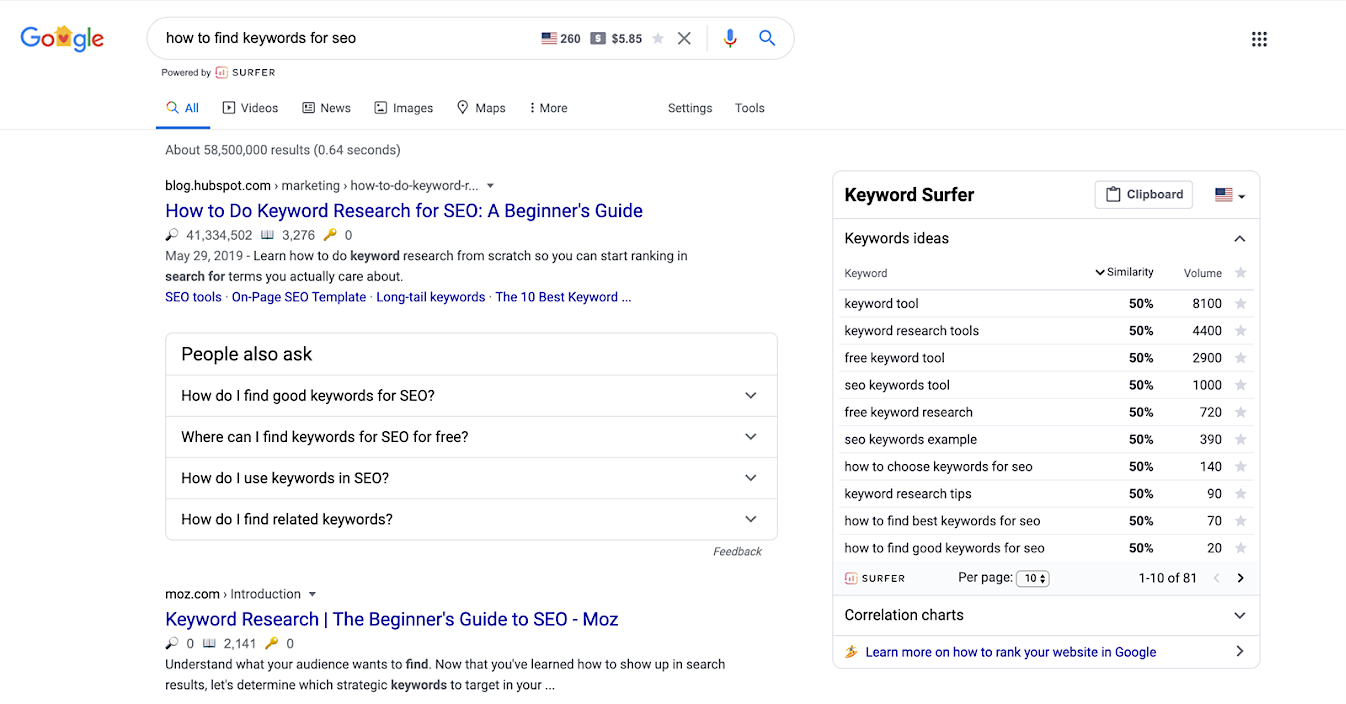 Pros of Surfer:
Its data collection is a massive time saver — reducing analysis by hours, if not days
Solid content editor with collaboration features
With the extension, you get data right there in the SERPs
Cons of Surfer:
There's no testing platform, which means that you have to test elsewhere (probably in Google Search Console)
Occasionally the data can be a little off
Surfer Pricing
Surfer's pricing strategy is simple and straightforward. It also has an entry-level product that's ideal for those just getting started with SERP analysis, content editing and SEO testing.
The Basic plan starts at $49 a month, moving up to $82 for the Pro plan, and $165 a month for the Business plan.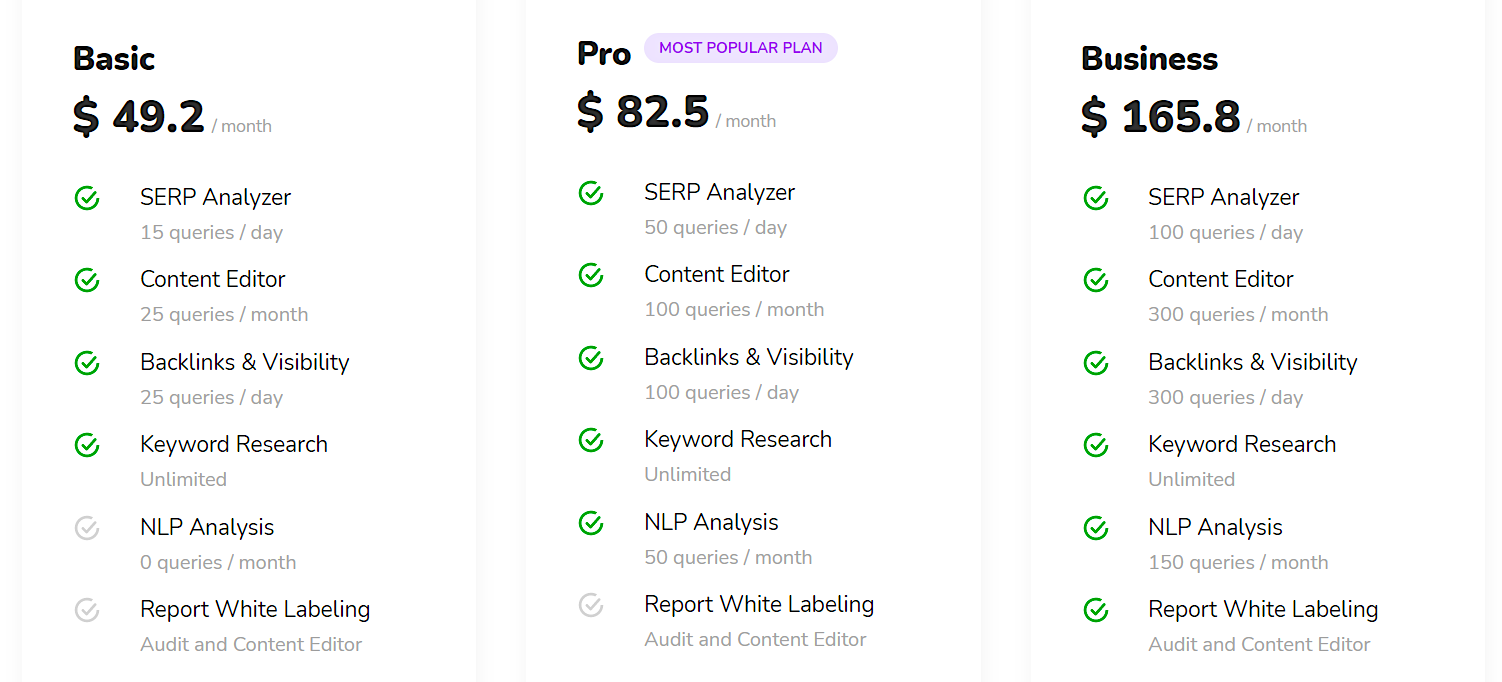 Want to grow your organic traffic by 20-100%? We built ClickFlow, a suite of SEO tools designed to increase your organic rankings and scale qualified traffic for your website. Click here to learn more and get started.
What Is Clearscope?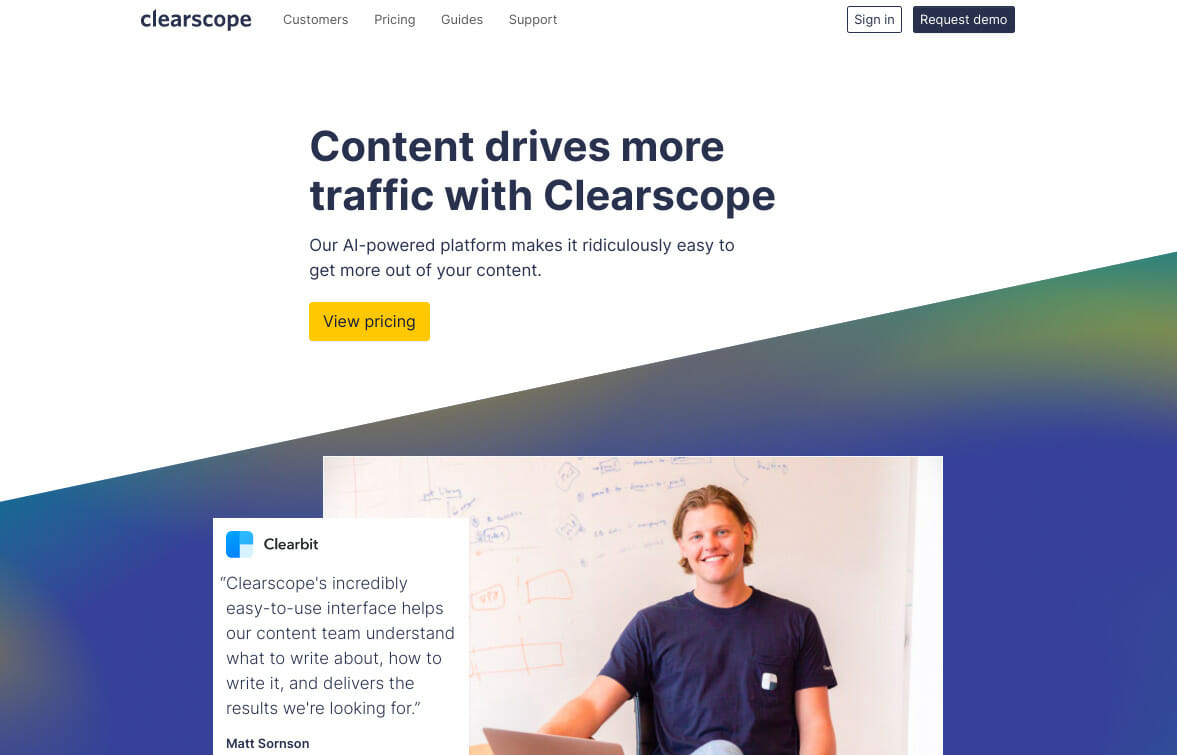 Unlike Surfer, Clearscope has a more defined product with pretty much one main feature: the Content Editor.
Using IBM Watson technology, Clearscope helps you find the language, entities and topics that ranking sites use. This allows you to benchmark yourself against your competitors and their content.
You then need to create content that's better for users and better for search engines (which are pretty much the same thing).
What Features Does Clearscope Have?
Content Editor
As mentioned earlier, there are no bells and whistles when it comes to Clearscope. It's a content editor tool, and it doesn't pretend to be anything else.
You simply enter the keyword you're creating content around, sit back and let it work its magic. Clearscope will then deliver the data needed to create optimized content for your site or clients.
The data you'll get includes:
A grade for your own, and your competitors' content
Word counts
Readability
Search volume
Monthly search volume
Top competitor content
Relevant terms
You can then head over to the Content Editor and optimize your content on the fly, adding relevant terms and topics until you have content with the potential to beat your competitors.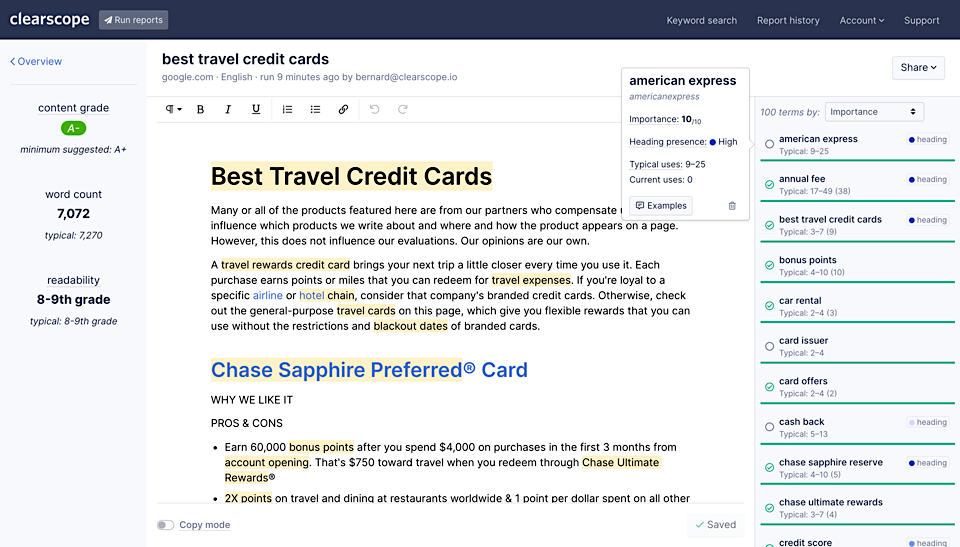 Pros of Clearscope:
It's incredibly easy to use — there's no steep learning curve
It looks great and it's fun to use
It has Google Docs and WordPress integrations
Cons of Clearscope:
No collaboration tools, which is a bit problematic if you have a content team
It doesn't have any data points around other aspects of SEO, which means that you could be editing content when there are other factors affecting its ability to rank
There's no SEO testing feature, so you have to track results yourself in Google Analytics or Google Search Console
Clearscope Pricing
Clearscope keeps their pricing simple.
Their plans start with an Essentials plan, at $170 per month with 20 report credits and one user. Next up is the Professional plan, which starts at $350 a month. This offers 50 report credits and three users. After that, it's custom pricing with the Enterprise plan.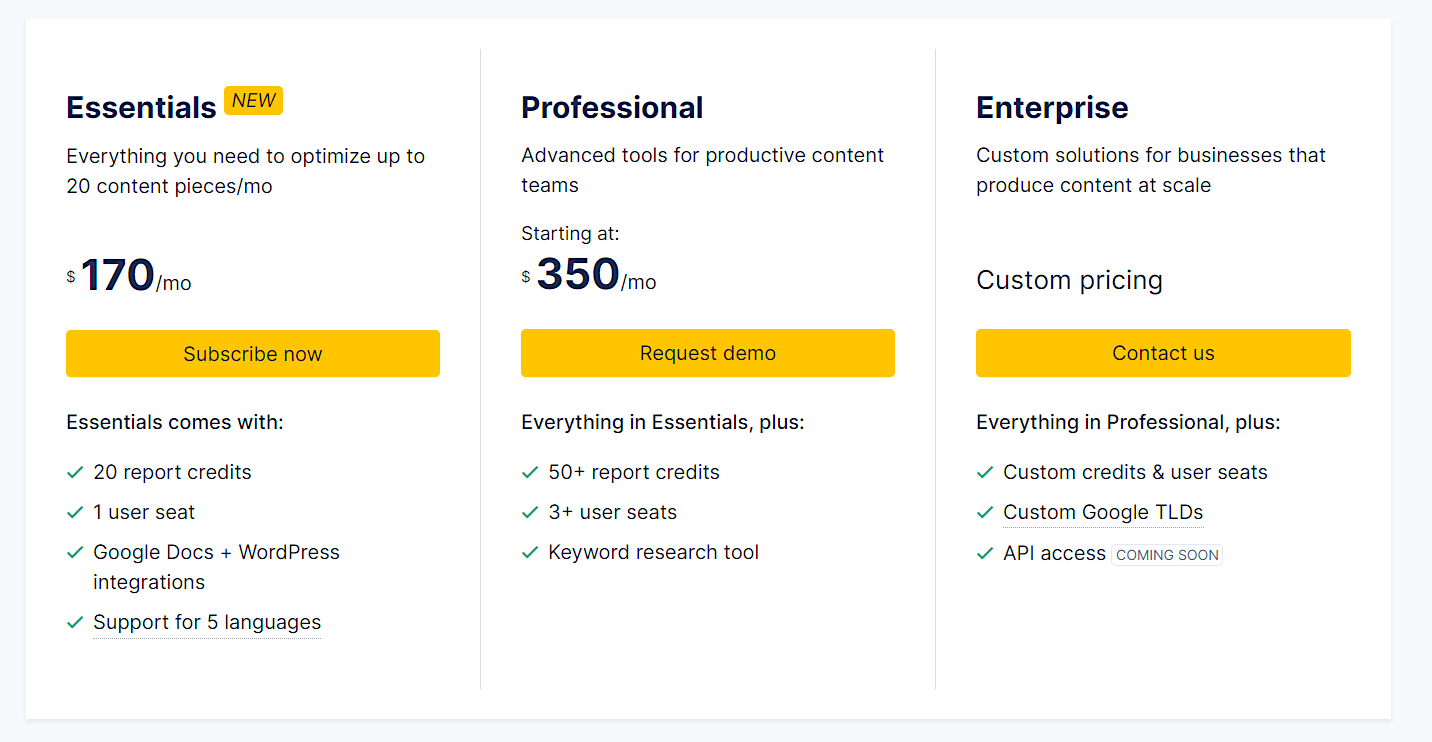 Which Is Better: Surfer or Clearscope?
As with any tool, you need to weigh the pros and cons as they relate to your specific business and your specific needs.
That said, Surfer has more features, better collaboration and is somewhat cheaper than Clearscope. While Clearscope is easier to use and looks nicer, we'd say that Surfer narrowly beats it out.
What both are missing, however, is the functionality to not only work on content, but to test whether it works in the real world. You need to be able to show that your hard work is paying off and you need to learn what works so that you can repeat those adjustments in other areas of your site.
That's where ClickFlow comes in.
Want to grow your organic traffic by 20-100%? We built ClickFlow, a suite of SEO tools designed to increase your organic rankings and scale qualified traffic for your website. Click here to learn more and get started.
What Is ClickFlow?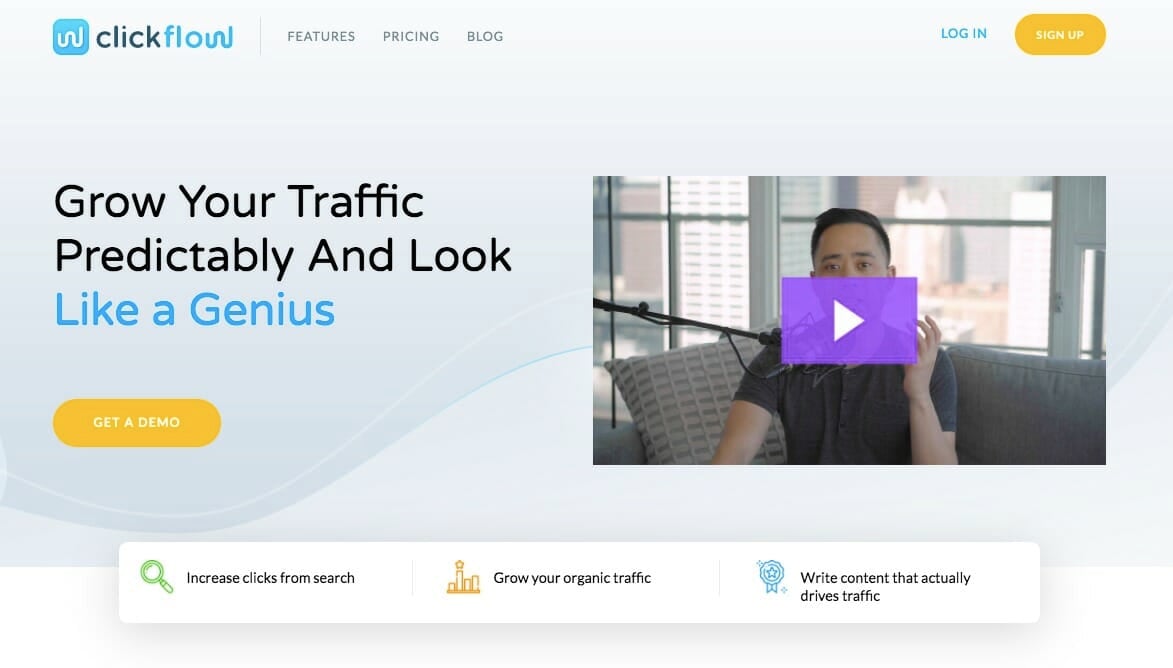 ClickFlow is an SEO experimentation tool that helps with optimization in a similar way to Surfer and Clearscope. However, it takes this process to another level with features that allow you to identify the pages you need to work on and test them via Search Console integration.
Let's dig into some of ClickFlow's features and see how it compares to Surfer and Clearscope.
What Are the Features of ClickFlow?
Content Editor
ClickFlow's Content Editor admittedly doesn't look at as many data points as Surfer, but it does look at similar data points.
You simply add your keyword to the content editor and it goes off and gathers the data. Like other tools, it takes the content that ranks well for a given keyword, and analyzes those pages to get you the actionable data you need.
ClickFlow will look at:
Word count
Readability
Relevant terms
Research questions pulled from Google's "People Also Ask" and "Related Searches" boxes in the SERPs
Competitor URLs that, with one click, take you directly to the page so you can check out the article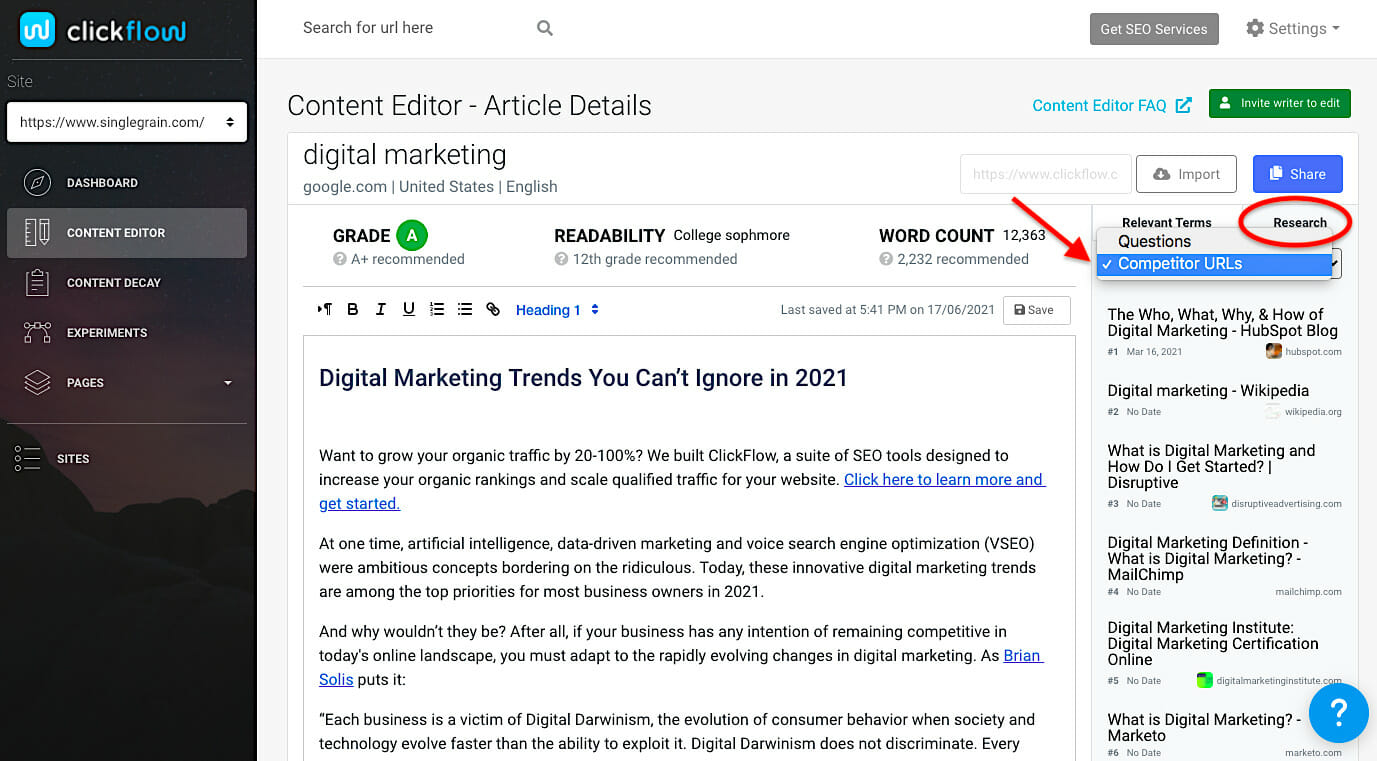 Clicking on any of the suggested People Also Ask questions will automatically paste it into the body of your Content Editor writing area.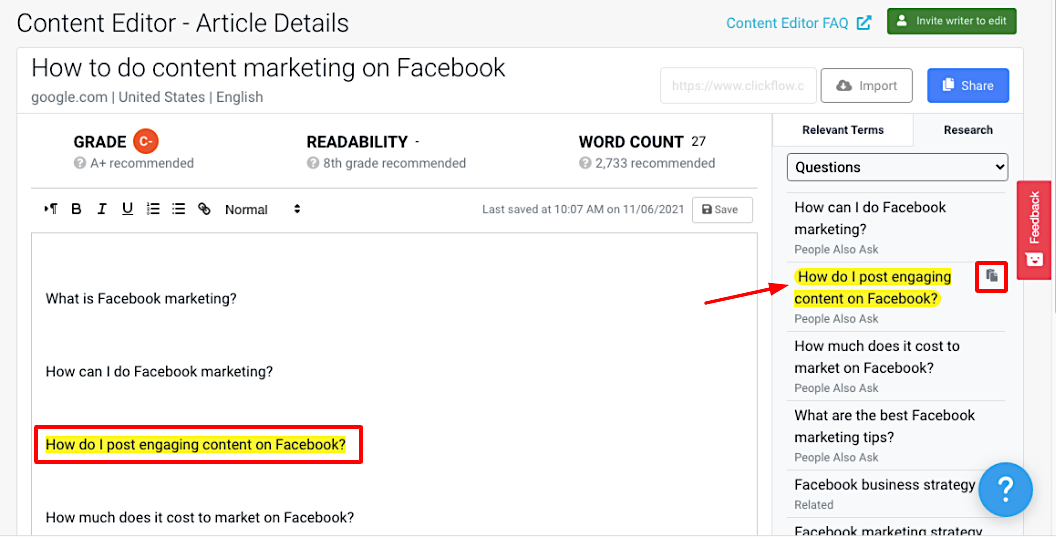 The relevant terms feature shows you which keywords you should be using and how many times, and gives you a green check mark when you've hit the quota.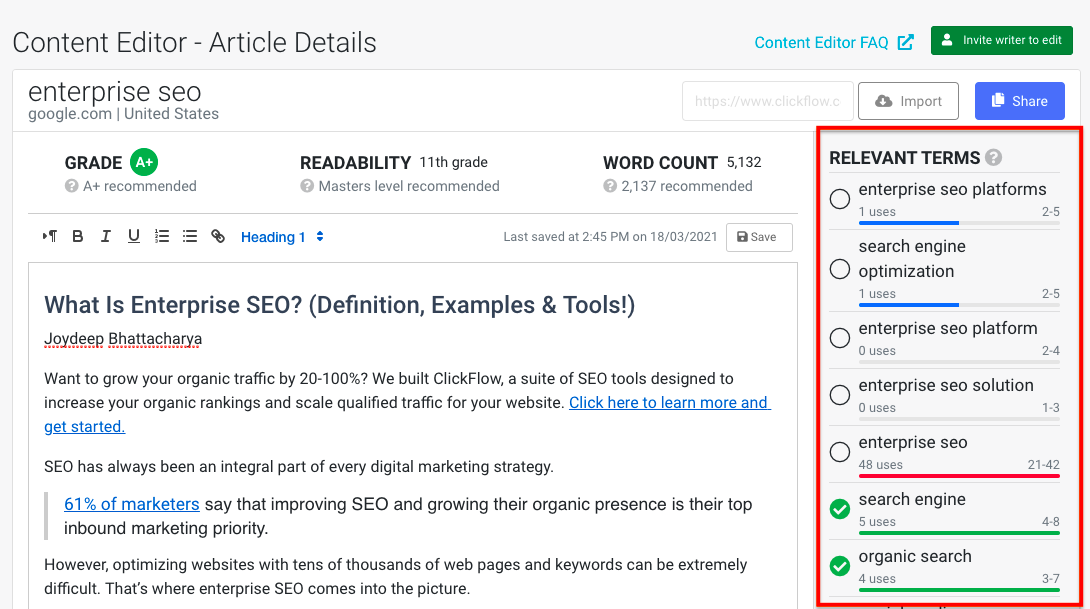 A new feature, Internationalization, enables you to use the Content Editor for non-U.S. SERPs. Select from 100+ languages such as Hindi, Italian, French, Spanish, Chinese, Korean, Portuguese, Slovak and many others.
Based on your selected language, you can also choose a country-specific Google search engine, such as Google.es for Google Spain, that makes it easy to find local competitors and relevant PAA searches in your targeted local language.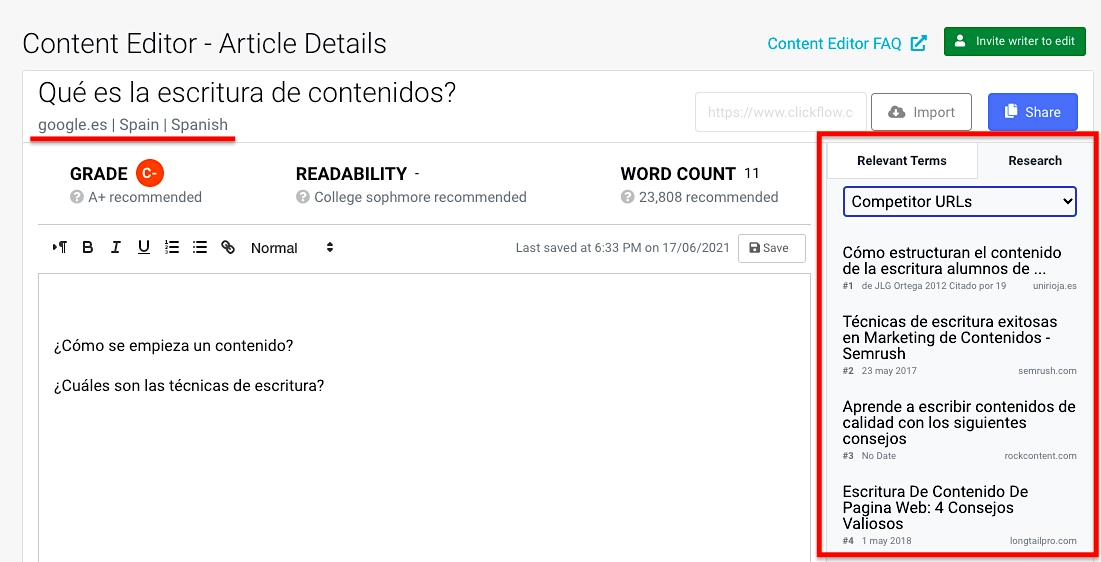 The Content Editor then grades your content and tells you what you need to be aiming for if you want to compete in that set of search results.
So far, this is somewhat similar to the other tools we've reviewed. Let's look at some of the other features.
Learn More: 3 New ClickFlow Features to Outrank Your Competitor's Content Strategy
Dashboard
We all love a good dashboard that shows us the top-level details that we need to stay productive. There are a couple of aspects to the ClickFlow dashboard that shows you your top growth opportunities at a quick glance:

1) Title Tag and Meta Description Test Suggestions
With the other tools reviewed here, you have to dig for the data yourself. You then have to decide which pages need optimizing. Since ClickFlow links with your Google Search Console account, it already has that data for you.
With ClickFlow, you can see which pages the tool thinks you should consider optimizing. It provides suggestions for the pages in which the title tags and meta descriptions could be improved. This is based on Google Search Console data for your pages with a high number of impressions but a low click-through rate. 
You now have a content optimization plan — i.e., find your most important page within this dataset, and work from there.
2) Decaying Content Suggestions
ClickFlow also boasts a top-level Content Decay section. This tells you which pages have ranked well in the past but are now seeing a month-on-month decline in traffic. Optimizing these pages can be a great way to get some quick wins.
Experiments
ClickFlow gives you a quick overview of the experiments you've performed, showing you the impact (positive or negative) of the pages you've edited. This data shows click increase, CTR increase, number of tests won, and revenue gained.

This lets you show the higher-ups or your clients that your work is having a direct impact on the business.
When you dig into the Experiments tool further, you can see more benefits of using ClickFlow. For example, once you've optimized and changed your content, you can track how well those pages have performed.
Scroll down, and you'll get a quick overview of the Google Search Console data for each of your experiments (date, clicks, CTR, impressions, and average rank) all at a glance. You'll also see the changes you made, like whether you increased the word count or added schema, for example.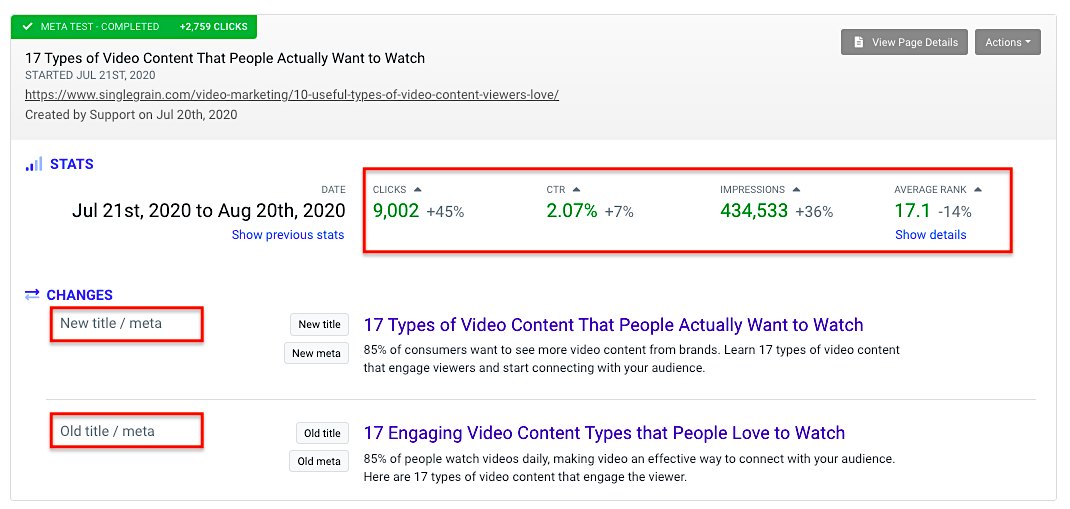 Content Decay
As mentioned earlier, one feature that ClickFlow has that many other tools are lacking is a Content Decay tool.
We all know that Google loves fresh content, but it also loves content that's regularly updated. Basically, Google doesn't want to send users to out-of-date or irrelevant content.
The Content Decay tool finds the pages on your site that have previously performed well but are seeing a steady decline in traffic. Updating these pages can reclaim some of that traffic.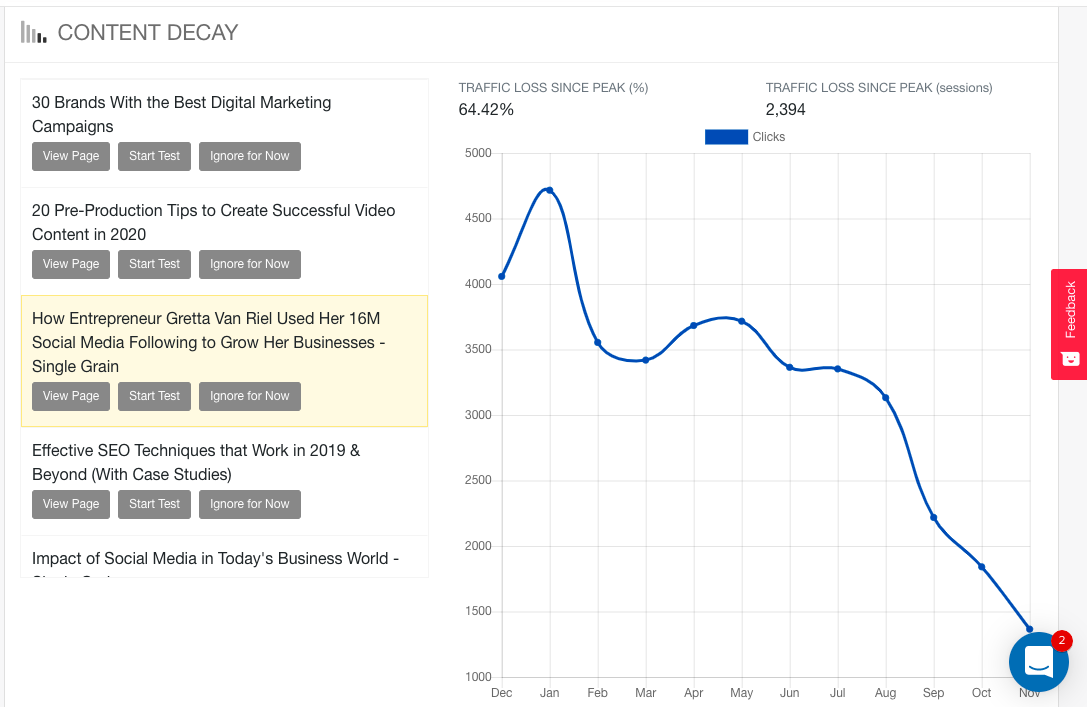 Click on any of the titles in the list to learn more about the article. You can view a graph of the clicks over time for one, three, six or twelve months. It shows you when the page was last crawled, plus when and how many SEO experiments you performed on it.
Here's a 2-minute video that will give you a basic look at how Content Decay works:
Learn More: What Is Content Decay and How It Affects Your SEO
Pros of ClickFlow:
Easy to use
More features than Surfer and Clearscope
Finds the data and opportunities for you, reducing analysis time
Has a full-fledged SEO testing feature so that you can handle the entire process — from discovery to editing to testing
Features guest-editing so you can collaborate with your team
Cons of ClickFlow:
Lacks the technical data you get in Surfer
ClickFlow Pricing
ClickFlow's pricing is super simple:
Sites with up to 10K monthly clicks can sign up for the Starter plan at $109 a month. If your site gets more than 10K monthly search clicks, then simply contact the ClickFlow team for a quote.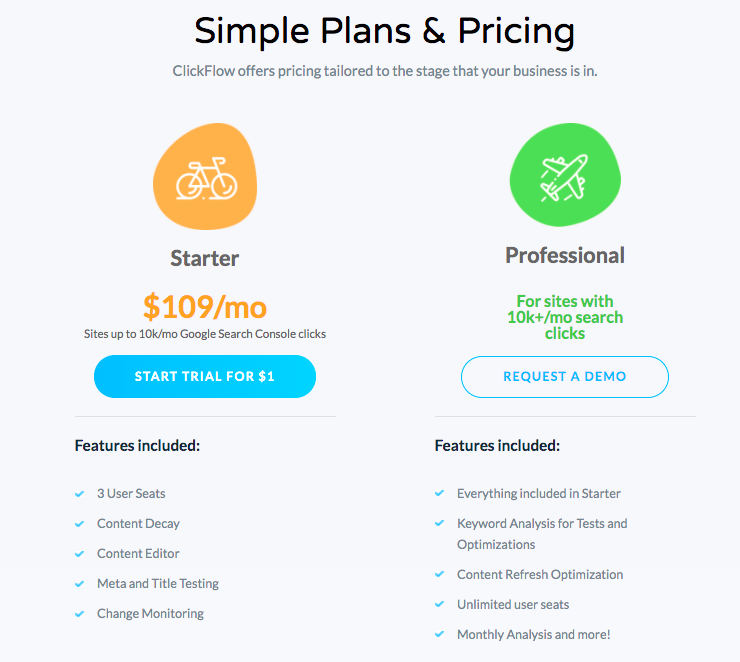 Want to grow your organic traffic by 20-100%? We built ClickFlow, a suite of SEO tools designed to increase your organic rankings and scale qualified traffic for your website. Click here to learn more and get started.
Surfer vs. Clearscope vs. ClickFlow
So how do you choose between these three SEO tools? As with any software, it comes down to features, pricing and how well it fits within your business.
That said, ClickFlow brings some additional value to the table. This is because it gathers the entire process into one easy-to-use tool. You don't have to use another tool for testing. You can create and edit content in ClickFlow — as you can in Surfer and Clearscope — while being confident that the content you create is both top-notch and actively boosting traffic.
At the end of the day, there's no point creating content, then just sitting back thinking the hard work's done. You have to understand the impact of your work. You need to know whether it's resulting in an increase in rankings, traffic and ultimately leads or revenue.
ClickFlow lets you do ALL of this.
---
Related Content:
* ClickFlow vs. Semrush for Ranking Your Content
* 3 New ClickFlow Features to Outrank Your Competitor's Content Strategy
* MarketMuse vs. Clearscope
* ClickFlow as a Clearscope Alternative
* Why You Should Update Content – Or Risk Losing The Traffic You Have
* B2B SEO: How to Rank Your Business Website Higher in Search
* What Is Content Decay and How It Affects Your SEO
* What Is Content Optimization? (And How to Ace It!)
* 10 Effective SEO Techniques to Drive Organic Traffic in 2022
* 5 Tools to Create SEO-Friendly Content Step-by-Step