5 Best Clearscope Alternatives
[Free Consultation] Are you spending money on advertising but not getting the results you want? Are you looking for more sales and leads but have no idea where or how to start? Get help from our world-class marketing experts in a free consultation call.
Click Here To Schedule Your Free Consultation Now
This post was updated December 2021.
Ranking on Google is harder than ever.
As a result, more and more businesses are forced to update and refine their search engine optimization strategies to get and stay on page one of the SERPs. Indeed, a forecast indicates that SEO spending will surpass $80 billion by the end of 2021.
This huge amount of competition means that getting organic traffic to your site these days is no easy task. If you want a solid chance at ranking, you'll need to use some of the new and innovative tools that have been developed to polish your SEO game.
Clearscope is a good SEO tool. But there are several reasons you might prefer an alternative, such as pricing and features.
So in this article, we'll cover:
What Clearscope is
Reasons to consider an alternative to Clearscope
A review of the 5 best Clearscope alternatives
Let's jump in!
What Is Clearscope?
Clearscope is designed to help businesses refine their SEO efforts and make their content more robust from an SEO perspective.
Even in the face of growing SEO interest, many businesses are using what Clearscope refers to as "SEO Lite." It's a very simplistic way of approaching SEO: find a keyword, place it in your title, use it 2-3 times in the body of your content, and then include it in your meta description.
While this approach will get some results, content that uses this strategy will have trouble competing with pages that use advanced tools that monitor for LSI (latent search intent) keywords, A/B testing, heading keywords, and more.
Put simply, Clearscope both provides deeper insights into Google's algorithm and allows users to get a pretty good idea of how their content will rank even before they post it. But is it worth it? Sure, but that doesn't mean it's right for everyone.
Here's why you might look at another SEO marketing tool.
Dive Deeper:
* What Is a Content Optimization Tool and Why Do You Need It?
* 21 Paid & Free SEO Tools That Will Improve Your Ranking
* 48 Content Marketing Tools to Make Your Life Easier

Reasons to Look for a Clearscope Alternative
Pricing: Clearscope has a steep price tag of $350 per month for the Professional Plan, which may make it out of reach for many marketers and small businesses.
Lack of Performance Tracking or A/B Testing: Clearscope helps you write your content, but not much else after that.
Pure Content Optimizer/Editor: Clearscope essentially focuses on its content optimizer window, with little else to get excited about in terms of keyword monitoring or competitive analysis.
So if you need a more robust SEO tool, what are your options? Let's explore the best Clearscope alternatives for your business right now!
Want to grow your organic traffic by 20-100%? We built ClickFlow, a suite of SEO tools designed to increase your organic rankings and scale qualified traffic for your website. Click here to learn more and get started.
5 Best Clearscope Alternatives for Optimizing Your SEO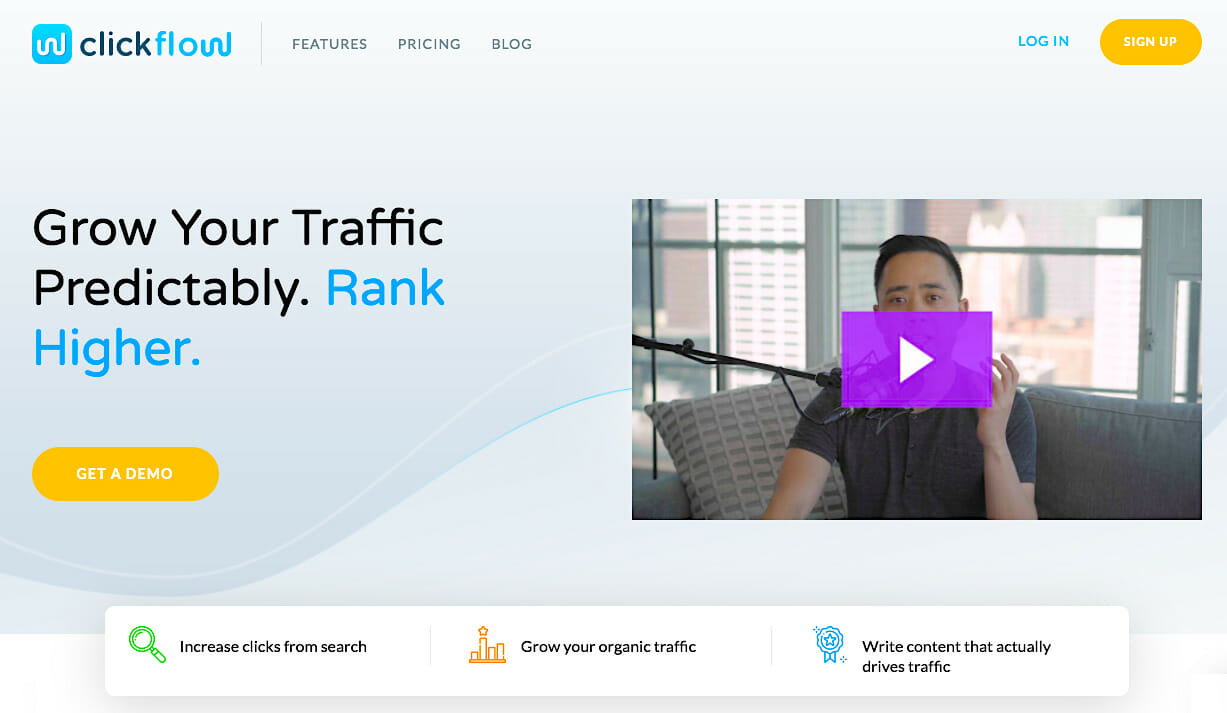 ClickFlow is hands-down one of the best alternatives to Clearscope when it comes to SEO management. The software offers several SEO features that help you not only write and optimize your content, but track it over time.
This robust tool ensures that you stay competitive for the long haul with more clicks and traffic. ClickFlow is also used by renowned SEO experts such as Brian Dean and Neil Patel, to name a few.
Why Use ClickFlow?
ClickFlow's Keyword Tracking is great for monitoring your content over time and making relevant changes based on the analysis. It provides a list of the top 50 keywords you're ranking for and allows you to see whether you're losing strength in any one of them.
The tool allows you to A/B test your SEO elements as well. It syncs up with Google Search Console and helps you do things that GSC cannot do from an SEO perspective, such as improving the click-through rate of a page.
You can A/B test:
Titles
Meta descriptions
Page elements like headers and subheaders
Keyword changes that might affect the ranking of your pages
You can also run grouped URL tests (perfect for large sites that want to run tests for several URLs at the same time, making the process much faster)
ClickFlow will then tell you how these changes will affect your SERPs ranking. After running a test, ClickFlow will save your results so that you can keep track of how you're improving over time.
When using ClickFlow, you can also navigate to the Content Decay tab to view your blog posts that have been losing traffic over the last year. To do this, ClickFlow connects to your Google Search Console account, then picks out the best content decay opportunities for you to refresh.
Therefore, Content Decay and other change-monitoring abilities are some of the best parts of using ClickFlow. When you click on one of the opportunities, you'll see a graph of your traffic over time for easy visualization.
Additional ClickFlow features include:
Run Grouped URL Testing: If you have a large website, running single tests can be overwhelming. That's why ClickFlow allows you to run tests using the group testing feature where you can test multiple URLs at once.
Automatic Reporting: ClickFlow automatically records each test that you run so that you can check how much success you have had with this tool over time.
Stay Up-to-Date on Opportunities: ClickFlow sends you notifications every time there's a new opportunity for you to boost CTRs and improve ranking in the SERPs.
Revenue Calculator: The results of your tests are recorded automatically and are displayed in a revenue calculator that shows how much your company will benefit from the increased traffic.
CTR Goal: In the suggestions tab, ClickFlow shows you the average click-through rate for the top 100 pages. You can set your CTR goal and check how many clicks you can gain by improving the click-through rate by a certain percentage.
In short, ClickFlow doesn't treat SEO as a simple snapshot in time. Instead, it treats strong SEO as a process that occurs over time. So it monitors for changes over time and notes the adjustments that lead to increased traffic.
As a result, you can get a better idea of what sort of changes impact your SEO and apply those strategies to all or some of your content.
ClickFlow Pricing
ClickFlow provides a Starter plan that costs just $109/month if you have up to 10K Google Search Console clicks per month. If your site gets more than 10K in monthly traffic, you'll need to get a custom quote.
Dive Deeper:
* What Is Content Decay and How It Affects Your SEO
* 3 New ClickFlow Features to Outrank Your Competitor's Content Strategy
* Why You Should Update Content – Or Risk Losing The Traffic You Have [Case Study]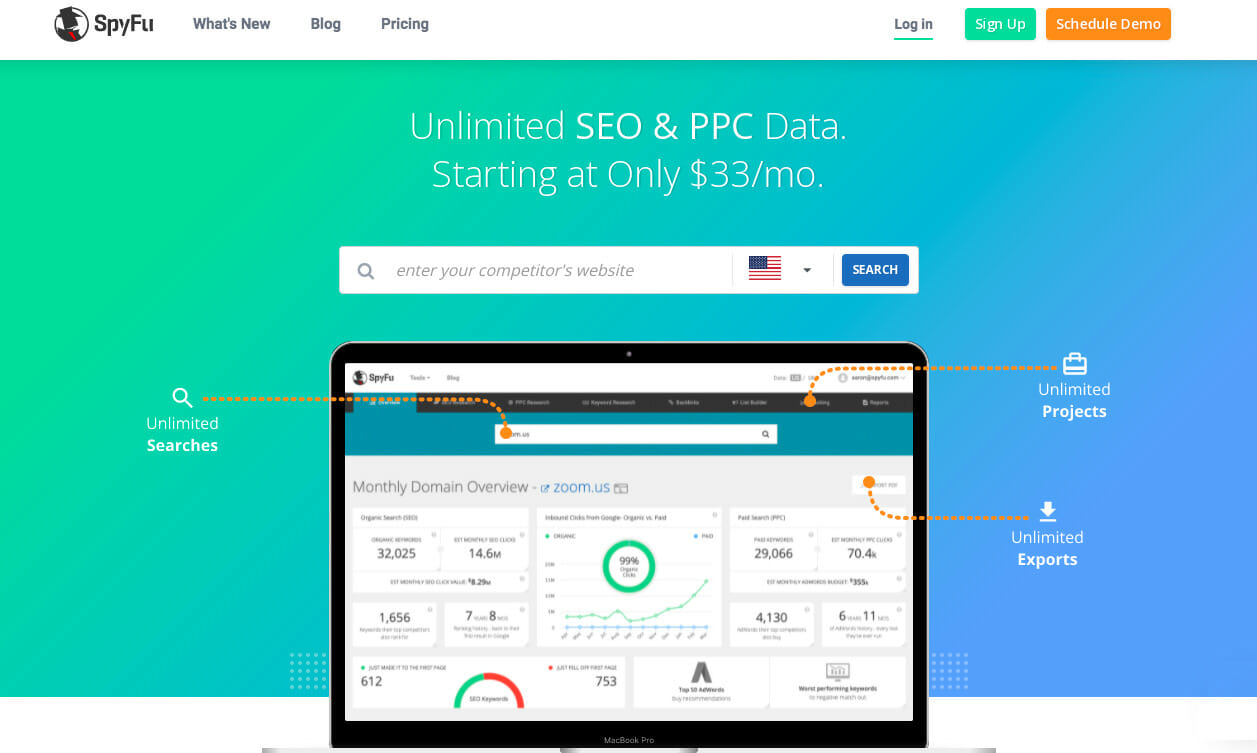 SpyFu is another Clearscope alternative worth mentioning. It revolves around providing users with tools to spy on competitors' SEO marketing in every way possible.
Why Choose SpyFu?
The SpyFu Keywords Tool is really helpful in identifying keyword opportunities. You can see monthly search volume, mobile vs desktop traffic, and even keyword difficulty to see if you want to compete in that niche.
Additional features include:
The Bulk Analysis feature which lets you check the data on 1,000 keywords at once.
Using the SEO Overview Tool, you can get a glimpse of rank change, monthly clicks, and more to understand which keywords need some improvement.
SpyFu's Organic Ranking History tool visualizes your keywords and their ranking history.
Try the Backlink Builder to see domain strength, outbound links, organic clicks, and other important metrics of any domain.
SpyFu Pricing
SpyFu has three plans to choose from:
Basic: $39/month (track up to 5K keywords)
Professional: $79/month (track up to 15K keywords)
Team: $299/month (track up to 40K keywords and get custom branding)
Dive Deeper: How Zero Search Volume Keywords Can Generate a Ton of Traffic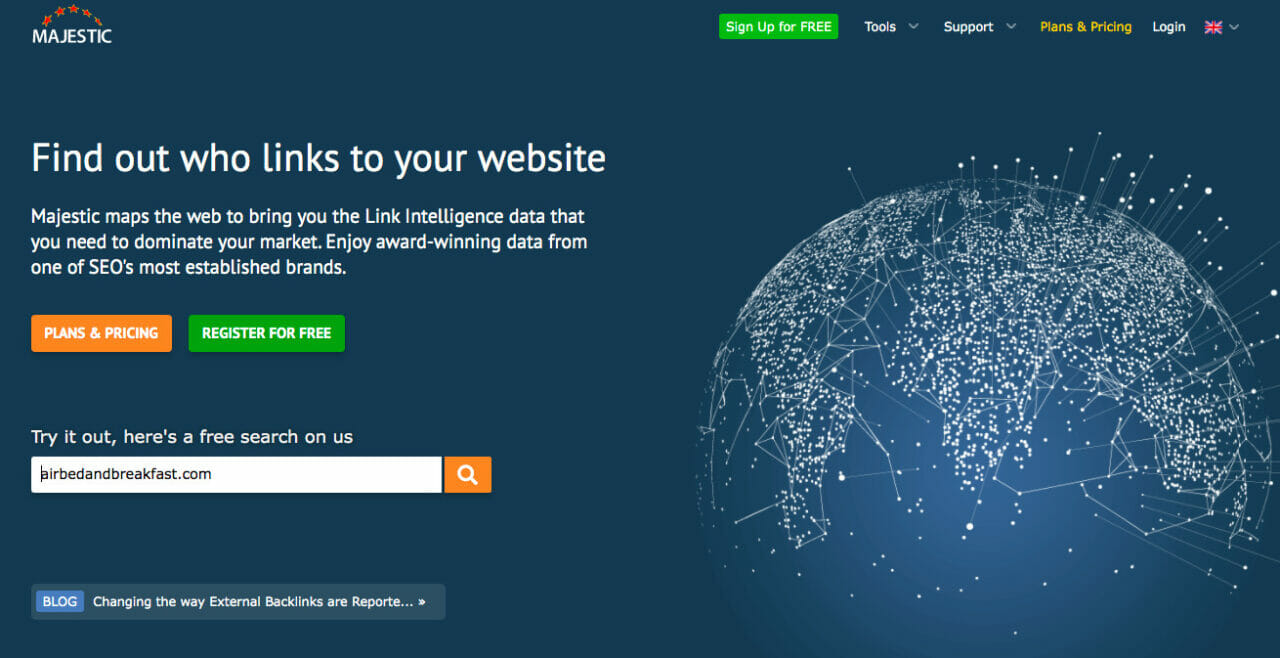 Majestic proves to be a strong alternative to Clearscope, particularly with its backlink tool. If you need advanced tactics and strategies to build links, you'll enjoy Majestic's comprehensive features and expansive database of link indexes.
Why Choose Majestic?
Metrics for backlinks like Trust Flow and Citation Flow help you determine a link's value. Trust Flow, for instance, will tell you when you're close to getting a backlink from domains in your niche.
One of the most useful aspects of Majestic is that it categorizes links by date so you can see lost links quickly. You can also identify referring IPs, subnets, domains, and your outbound links easily.
Additional features include:
The Link Context feature shows you the highest-rated backlinks pointing to your website.
Link Graph is an interactive feature that lets you intuitively zoom in and out of referring domains or backlinks. You get a full backlink breakdown such as the link types including deep links, direct, nofollow, follow, or image links.
Leverage the Anchor Text report to view all your anchor text distribution across category, domain, and more.
Upload 1 million URLs at once to analyze them via the Bulk Backlink Checker.
Majestic Pricing
You can choose from three plans:
Lite: $49/month (metrics on 1 million backlinks)
Pro: $99/month (metrics on 20 million backlinks)
API: $399/month (metrics on 100 million backlinks plus API support)
Want to grow your organic traffic by 20-100%? We built ClickFlow, a suite of SEO tools designed to increase your organic rankings and scale qualified traffic for your website. Click here to learn more and get started.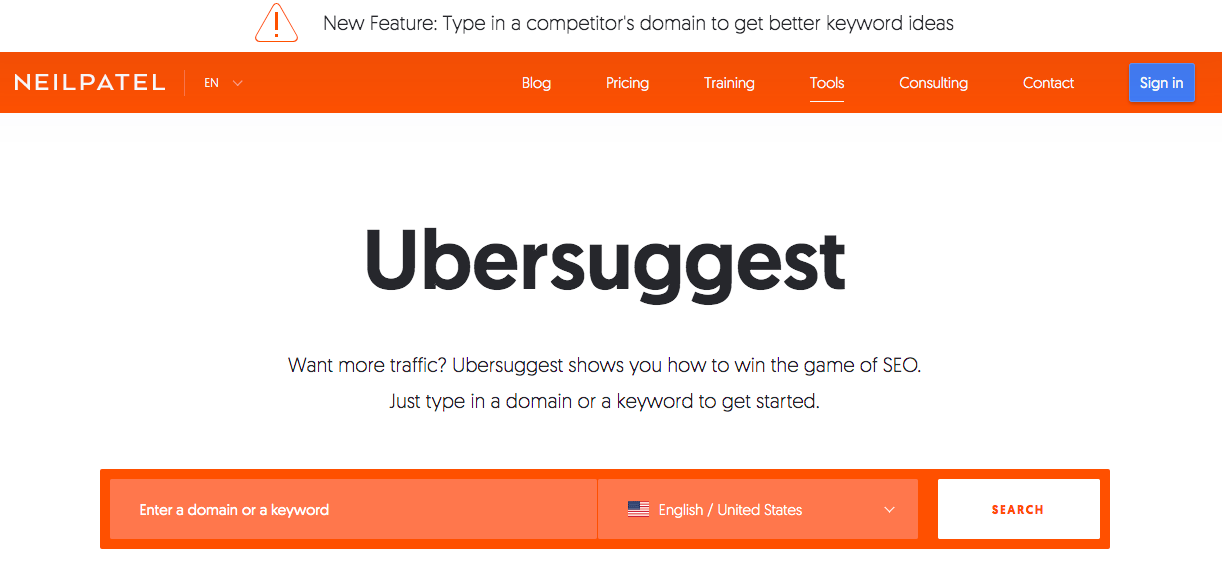 Ubersuggest is an SEO analysis tool that is known for being relatively affordable and easy to use, particularly for beginners.
Why Choose Ubersuggest?
With the Domain Overview feature, you can run a fast SEO analysis of your domain. You'll gain important insights related to backlinks, domain authority, monthly traffic, and organic keywords.
In addition, you'll be able to identify the pages that get the most traffic on any domain. You'll have access to estimated traffic numbers, backlinks, and even the share count on Pinterest and Facebook.
Additional features include:
The Similar Websites feature helps you perform competitor analysis by seeing their keywords. You can sneak a peek at their monthly traffic numbers, and other stats like keyword gap, backlinks, and common keywords.
With the SEO Analyzer tool, you can perform an internal SEO audit to fix key issues or errors on your domain.
Using Backlink Analysis, you'll be able to spy on competitors' backlinks, getting a breakdown of their referring domains.
Ubersuggest Pricing
You can add 15 projects and track 200 keywords per project for $40 a month on the Enterprise plan.
Dive Deeper: 4 Types of SEO Analysis & How to Do Them (Step-by-Step)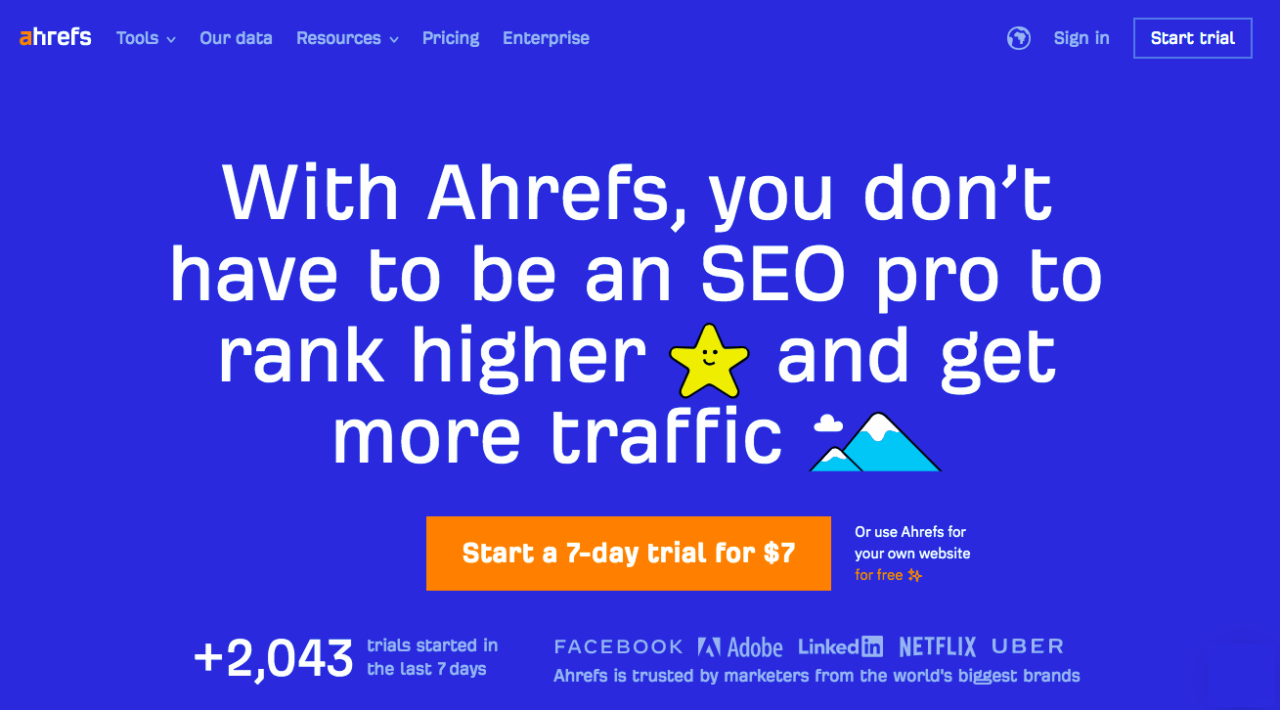 Similar to the other SEO tracking tools mentioned, Ahrefs is a nice option if Clearscope doesn't meet your needs. It offers more in-depth functionality than Clearscope and is used by some big brands like Netflix and Adobe. However, it comes with a hefty price tag.
Why Choose Ahrefs?
Ahrefs is probably best known for its Site Explorer tool. This presents you with detailed information about any URL such as organic keywords, traffic, DR (Domain Rating), traffic cost, and backlinks.
Additional features include:
Site Audit to discover weak points in your websites that are preventing you from ranking higher. The tool crawls your site in-depth to find SEO errors and then provides recommendations.
With the Top Pages report, you can quickly view the top pages of your domain with the highest traffic, so you can optimize their conversions.
The Organic Keyword report is a way to spy on your competition. Ahrefs can analyze hundreds of your organic keyword competitors across over 150 million keywords.
Use Keywords Explorer to brainstorm ideas for new keywords and variations using data from several search engines like Bing, Google, Baidu, and Yandex.
Ahrefs offers four pricing plans:
Lite: $99/ month (track 500 keywords)
Standard: $179/month (track 1,500 keywords)
Advanced: $399/month (track 5,000 keywords)
Agency: $999/month (track 10,000 keywords)
Dive Deeper: SEO Keyword Research Made Easy in 2022
Conclusion
The tools mentioned in this list provide a great way to supercharge your SEO efforts and get a lot of value for your investment.
Whether you're a freelancer or agency owner, these are the best Clearscope alternatives to accelerate your organic web presence with features for every situation!
Want to grow your organic traffic by 20-100%? We built ClickFlow, a suite of SEO tools designed to increase your organic rankings and scale qualified traffic for your website. Click here to learn more and get started.